The primary motivation for installing a Methane Mitigation System is to eliminate risks of methane vapor intrusion through basement walls and the foundation. The main component of a Methane Mitigation System is the Methane Gas Vapor Barrier, which is an impermeable membrane usually installed underneath the concrete foundation and behind retaining walls.
The Methane Barrier is a technology that suddenly arrived at the time of need during the 1985 Ross Store explosion. The city of LA and other jurisdictions were under a lot of pressure to solve the methane intrusion problems.
At this time, waterproofing systems used asphalt emulsion products that were thought to provide sufficient protection from methane diffusion. After rigorous testing, it was proven that this was certain. Waterproofing products can prevent methane intrusion protecting human occupants in a building from harmful soil gas. This was a significant finding because, in a Methane Mitigation System, choosing the most appropriate membrane is one of the keys to a successful installation.
The Methane Mitigation process will begin with a Methane Soil gas test. The Methane Test will consist of Direct Push drilling and Soil Vapor Gas Probes. Below Grade Projects may require Soil Gas probes located at deeper elevations compared to Slab on Grade Methane Mitigation Designs. When the Methane Mitigation Project consists of below-grade Design Features, there is a high risk of Methane Gas Intrusion from horizontal migration. The Waterproofing system will need to protect both Methane Gas intrusion and water intrusion.
Contractors can choose from three options for waterproofing systems. Type A Waterproofing involves internal or external barrier protection. Type B Waterproofing relies on making concrete watertight. Type C waterproofing usually employs a French Drain installation. A Methane Mitigation Plan will be composed of Passive and Active Mitigation Systems and Additional Miscellaneous Components.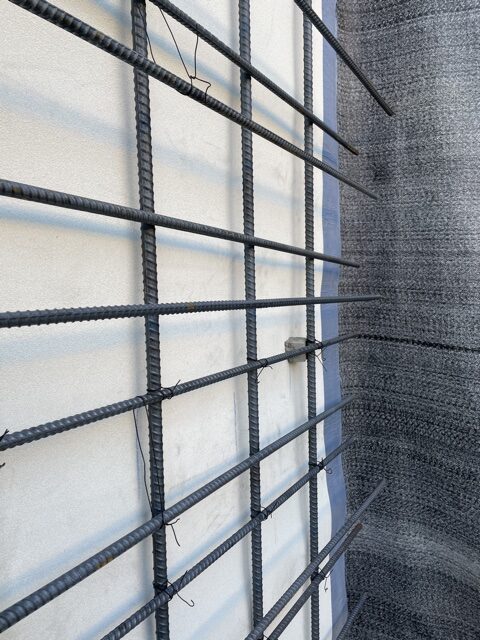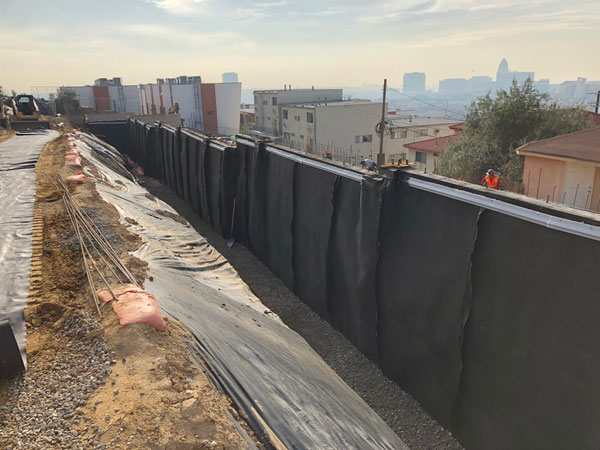 Can my waterproofing contractor install my Methane Gas Vapor Barrier?
Along with the required materials, the industry needed contractors experienced and willing to learn the trade of Methane Mitigation. This need has come early on and frequently since to waterproofing contractors.
Considering that the utilized Waterproofing System needs to be certified as a Methane Gas Vapor Membrane, the same materials and techniques are used for installation. That's why it's common for waterproofing contractors to be able to install Methane Barriers. The vital thing to note for this is that the waterproofing contractor must be certified to install the Methane Barrier according to the material manufacturer specifications and the local building code.
Post-applied systems are usually employed in below-grade projects wherein the Methane Barrier is directly applied to the wall while the drain mat and protection board get installed directly over the barrier.
Back in the 1980s, there were various types of application techniques for waterproofing and gas barrier membranes. Some included spraying the membrane directly onto the sand with an asphalt emulsion, which recently is still a primary resource used for Methane Barriers. Some spray onto a geotextile surface to allow for a base material to be used.
Recently, there have been significant changes to the industry that resulted in developing new types of products. Some of these products are film or sheet membranes, built-up or laminate membranes, and even injectable waterproofing when existing structures need waterproofing improvements. Other contractors use peel-and-stick products consisting of rubber, bentonite clay, bitumen, polyethylene, and plastic sheet compositions.
Living in the Methane Zone, should I care which Waterproofing System is used for my basement?
Comparable to carbon monoxide exposure, when methane vapor, hydrocarbons, radon, and volatile organic compounds (VOCs) produced by oil fields or landfills are constantly inhaled, it will deprive the body of oxygen. If these gases are continuously built up inside an enclosure, it can also lead to an explosion. If you are living in an area within the Methane Zone, there is a high risk of this occurring.
If a subterranean project is planned to be constructed within the LADBS Methane Zone, the developer needs to abide by the LADBS Methane Mitigation requirements. Methane Mitigation construction will start with Methane Testing, which must also be done according to the standards of LADBS. The results of the test will ultimately be reflected on the design of the construction.
Three types of Waterproofing Systems can be used for your property. Type A Waterproofing is usually called basement tanking, wherein a membrane or sealant is applied inside or outside the structure. Type B is a waterproofing system that relies on installing water bars at the joints and penetrations of a concrete structure. Type C, which can be referred to as drained protection, is strategically allowing leaking water to the inside of a building for depressurization, then safely removing it from the structure.
Choosing the best waterproofing system for a project in the Methane Zone must be based not only on the water table and hydrostatic pressure but also on the severity of the underground gas flow provided by the methane test. If ventilation is considered, a clear path must be provided, which can compromise the integrity of the waterproofing capabilities of the system.
If Type A or Type B Waterproofing is used, a gas resistant membrane cannot be applied, moisture will remain. Even if the concrete is watertight, water will eventually evaporate and accumulate behind the gas membrane. If this happens, the entire concrete structure will become saturated, which will induce hydrostatic pressure on the vapor barrier. This will lead to debonding or peeling.
Type C Waterproofing might be implemented on your property. However, since it allows water to come into a structure, gas might also enter the structure. As you can see, it's essential for waterproofing products to be tested for gas resistance and verified by specialists. A waterproofing design specialist must be consulted for the design that will accommodate both waterproofing and gas protection.